Here's why you need to think differently
Used in the right way, email marketing is a powerful, low-cost tool you can use to:
Generate NEW business
Bring in REPEAT business
Build REFERRAL business
Email continues to be a preferred method of communication. According to MailChimp, there will be 2.9 billion users worldwide by 2019.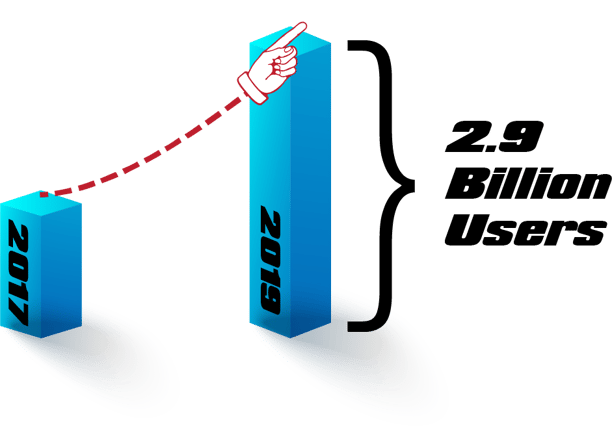 But many (many!) people fail to see a good result from email marketing, and give up on it.
"It doesn't work" they will tell you.
"No one reads them" they cry.
"It never brings any traffic" they moan.
"People keep unsubscribing" they whimper.
There are many possible reasons for low ROI from email marketing.
In future articles we'll explore some ideas that you can test to improve your results.
(You can quickly complete the "Subscribe" form on this page so you don't miss out!)
But right now, I want to talk about one of the fundamental reasons for failure — and that is the ATTITUDE behind the whole thing.
Puuuulease… No more "Email Blasts"!
OK, so if you are a serial e-Blaster, as this data shows, you are not alone.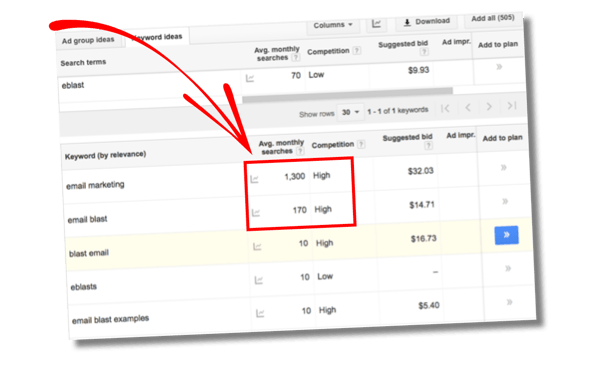 But I'm going to give you some good reasons why you might want to change your thinking and look at your email marketing strategy very differently.
I wasn't in the room when some numpty came up with the term "e-Blast".
But if I had been, I'd have slapped him across the chops with a wet mullet.
Seriously. e-Blast really was a Poor-Choice-Of-Word.
But, 'e-Blast' is just a word. What harm can it do?
Well let me tell you…
The problem with "sending out an e-Blast" is that the very name sets you up on a bad foundation.
It makes the whole activity feel unimportant.
It smacks of:
Just get Wozza in sales to cobble something together and blast it out to the punters.
Don't even THINK about what they want. Just give 'em what you want 'em to have.
Don't worry about how they feel when they receive it…
… or about how receptive they will be the next time they hear from you.
Don't give a fat rat's clacker about your brand, or the impression you create.
Just blast away with a bit of 'guff', make 'er look pretty with the logo and she'll be all good, maaaaaate!
Stop.
Sending.
E-Blasts.
This.
Minute.
Rather than 'blasting' the poor hapless punters with your 'stuff', how about you shift your thinking — to sending out eDMs instead.
eDM. That stands for Electronic Direct Mail.
It is only a few words. But they set you up on a much better foundation. A better way of thinking.
It takes the "Maaaaate" out of it.
It lifts it to a more sophisticated level.
It means you:
Take care preparing it, as if you were paying for an envelope and stamp. (Remember them?).
Think about your recipients, and what they WANT to hear from you.
Leave the door open so they will open the next, (and the next) eDM you send.
Plan for engagement — what happens when they click through to your website.
Integrate it into your Inbound campaign, use it wisely and wring the highest ROI you can from it — instead of just 'blasting it out'.
Let's look at this example of email marketing
This eDM came from Crockford Carlisle.
It was sent to 670 recipients on a segmented list — specifically, people who have indicated that they have an interest in certain aspects of digital marketing.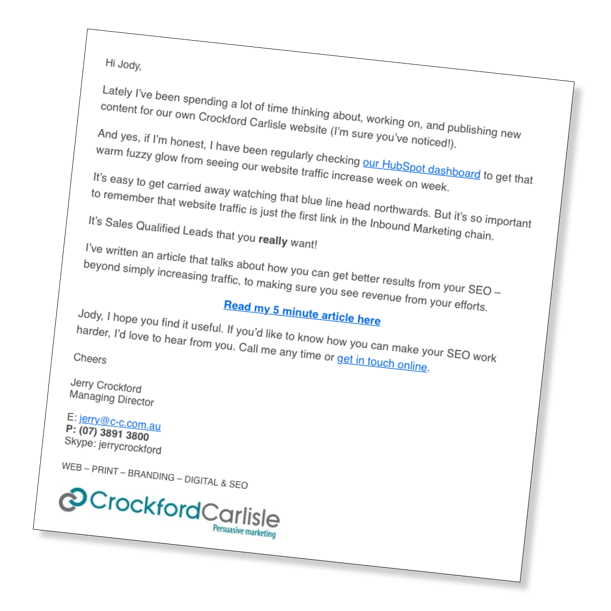 You can see that it was personalised. Short. To-the-point. Easy to read.
It didn't try and sell our services.
Instead, it promoted some free content on our blog, in the form of an article that would help the recipient to understand more about SEO and Inbound Marketing.
(You can see that actual article that tells you about getting better results from your SEO here.)
This eDM wasn't a 'sales pitch'.
Rather, it was written in a warm, direct voice — like that of a personal email.
The artwork was simple, just based on the format of my normal emails, and wasn't dressed up to look like a promotional piece in any way.
Here is the performance report, showing what happened out on the battlefield.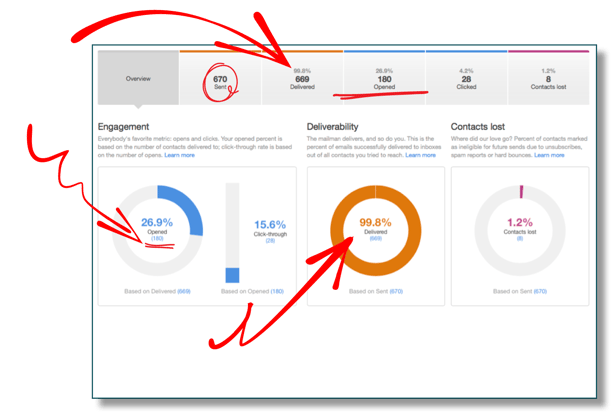 The open and click-through rates are Just Fine Thank You Very Much.
Of the 669 that were delivered, 180 people opened it and had a quick read.
That's a very healthy 27% open rate (well above the industry average of around 20%).
So, for them, there was:
Exposure to our brand
A glimpse of what's on offer with helpful, free ideas and information about digital marketing.
A reminder of the expertise that Crockford Carlisle brings to the table.
28 people took it further.
They clicked through to the blog article that was being promoted, and became more deeply engaged with our content.
That is a 4.2% click-through rate. Awesome!
According to Mail Chimp's stats, the average for our industry is just 1.92%, so you'd have to be happy with that, right?
And look at that teensy-tiny 'unsubscribe' rate.
Back to my earlier point, where I said…

What is important to note with this list is that this is the sixth time that the recipients have been emailed over a three-month period.
They have received an eDM every two weeks.
Each one was carefully written.
Each one linked through to meaty, high value articles (like the one you are reading right now. If you haven't subscribed, you really should do so!) that offered insights and advice that would help the recipient to prosper.
And "Voila!", the unsubscribe rate is only 1.2% — which is extremely low.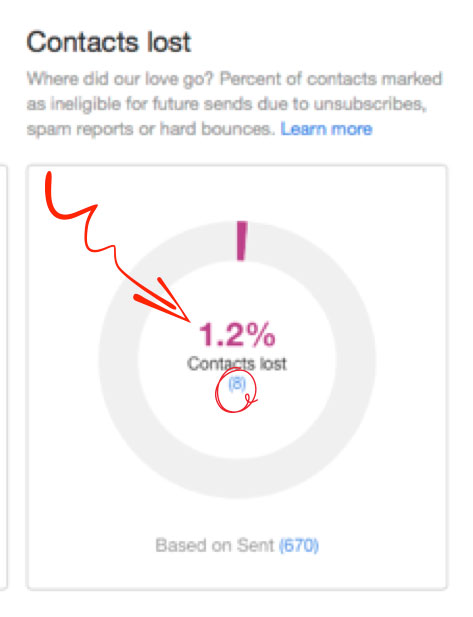 This tells us that the audience like the content they receive — and even if they don't engage at this stage, they are happy to stay on the list and receive more from us in the future.
You could put a similar strategy in place.
By using email marketing to promote quality content on your blog:
Your potential buyers will get to know you
Your potential buyers will see what you offer
Your potential buyers will get a feel for how you approach things
Your potential buyers will understand your expertise and how you can help
In short, you'll build a relationship with them.
And that is a classic example of email marketing working well. Maaaaaate!
Your email database is a valuable business asset — and it needs to be treated that way.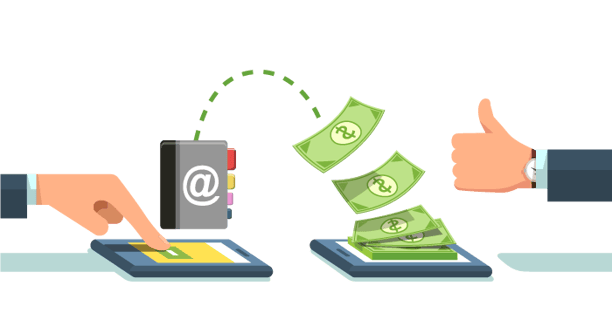 It is the thin thread between you and your potential customers.
It is a thread that can so easily be broken by one click on the 'unsubscribe' button.
It needs to be protected. Nurtured. Treated with respect.
To wrap this up
If you don't have an eDM strategy in place as part of your marketing mix, you need to get on the train.
When it's coupled with a Marketing Automation platform such as HubSpot, it gives you tremendous leverage, and helps you to nurture relationships with people as they progress through the Buyer's Journey to the "Decision" stage.
As you get better at segmenting your lists, you'll be able to measure your ROI more effectively, and see what's working, and what isn't.
And most importantly…
No more "Email Blasts". Shift your thinking.
If you need to, instead of a 'swear jar', set up an 'e-Blast jar' and start raising funds for a worthy charity.
Make sure you STOP… and think… about each eDM you send out, so you keep your unsubscribe rate low, protect your email lists, and take each opportunity to build your brand.
Make your email marketing more profitable
To get help with your email marketing campaigns and with your Inbound marketing strategy, please give us a call and have a chat.
You won't get an 'agency sales pitch'.
Instead, you'll talk to someone who loves Inbound Marketing, and who genuinely enjoys solving marketing challenges and helping businesses to grow.
No matter where you are in Australia, we're just a phone call away on 07 3891 3800.
We'll talk about some ideas, look at what you've been doing, and give you our professional insights.
If you like our approach, then we'd be happy to talk about how we can help you to reach new markets and grow your business.