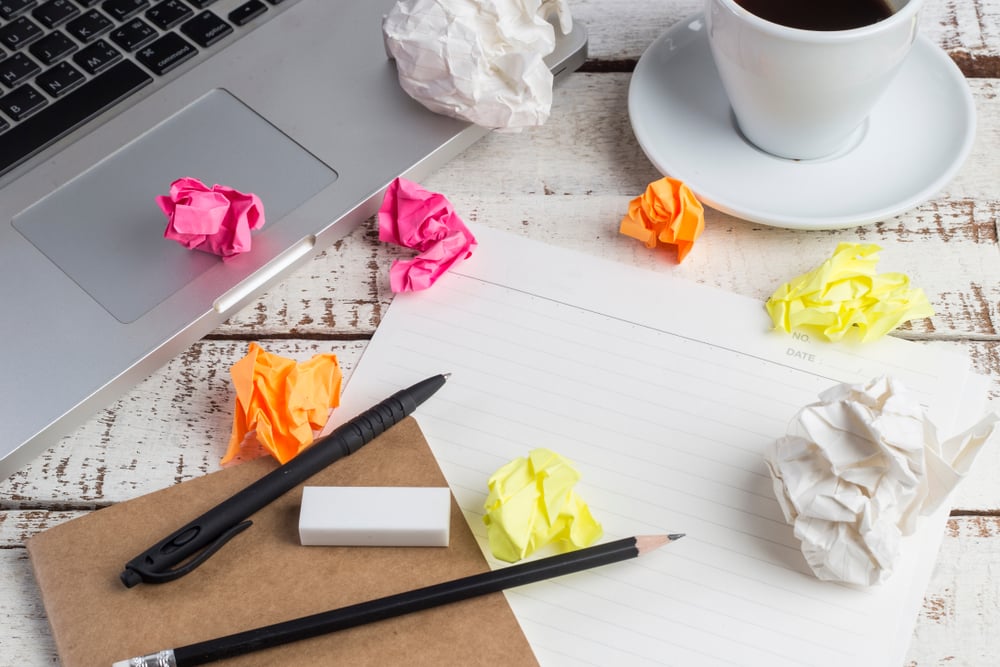 One of the most common questions our clients ask us about copywriting is whether we can just take the copy from their existing brochures/collateral and use it as website content.
Short answer: Nope. Not if you want to increase traffic and generate leads.
Just dumping business brochure copy into your website causes a number of problems and lost opportunities — ranging from poor search engine visibility, through to high bounce rates and low customer conversions.
If you are serious about your website being an efficient lead-generation business tool, then you need to take a much more sophisticated approach — with copy that is written for each specific purpose.
Business brochure and website content are similar — but different.
Firstly, I acknowledge that the fundamentals are the same. Whether designing a website or a business brochure, a professional writer will:
Use the correct tone.
Highlight the benefits in a way that makes them credible.
Build the perceived value of the product or service.
Deal with objections.
Showcase the key advantage.
Give your prospects a compelling reason to act and take the next step.
And use all the other techniques a good copywriter uses to create an effective marketing tool.
All that is a no-brainer. The difference is the WAY the message is put together for the two types of media.
1. Your business brochure has a higher tolerance level.
The first thing to remember with your brochure is that it took a bit of effort to get it. Your prospect had to visit you, or write to you, or open an envelope from you.
This means that...
If somebody is remotely interested in getting a solution to a problem that your business can help them with, and
Your brochure is in their hand, then
Chances are they are going to make an effort to read it.
If the copywriting and design don't grab them immediately, they'll have a bit of tolerance.
They'll at least scan a few pages to try and find relevant information WITHIN that particular document, rather than going to all the trouble to get another one from a competitor. (Mind you, it is a different story when your brochure is one of many in a display rack, such as tourism brochures in an information centre. In that situation, you ARE up against it!)
Does this mean you should be sloppy with your brochure design or copy?
Nope. If your brochure designer and copywriter have done a lousy job, no-one can be forced to read a train wreck. If it is boring, it is boring.
What the slightly higher tolerance factor DOES mean is that you can talk to a wider range of topics in a brochure than you might on a web page. As I said, if people don't see what they want immediately, they may look for it WITHIN that document.
Website content is an entirely different matter.
With your website content, the tolerance factor is very low. If people don't see in five to eight seconds that your business website will give them what they are looking for, they are gone — bouncing away into the ether.
Aside from the lost opportunity, this is also noted by Google. A high bounce rate is a red flag to the search engine. It tells them that people don't see your site as being relevant for that particular search keyword, and over time, the damage to your search engine rankings can be significant.
So, your website copywriter needs to be sharp. They need to use EVERY trick in the book to engage your potential client, keep their interest and pull them through to the point of taking action.
Above all else, your web page needs to be on-topic — so that people see what they expected to see when they click on the link to your website.
It needs interesting sub-heads.
It must be conversational.
It needs bullet points — like the ones you are reading now.
It needs highlights, lists and
Interesting ideas to engage people and get the bounce rate down..
2. Good web copy boosts search engine visibility!
As our website writers will tell you, writing web content is tough going. It is a different ball-game to the challenges faced by a business brochure copywriter.
As well as thinking through what will happen when people land on the page, the web copywriter ALSO has to think about getting them there in the first place.
This means writing your web copy so that you are more visible: for both the 'head' keywords you want to rank for AND for the more profitable "long tail" keywords.
Increase your online visibility for a wide range of search terms.
I cannot stress the value of long tail keywords enough — especially if you are in a highly competitive business.
Long tail keywords are the more descriptive search terms that people use when looking for a SPECIFIC solution. For example, I recently watched my wife and daughter searching for accommodation for friends who were coming from Townsville to the north coast. The initial search was for "Unit Accommodation". When that didn't show them the results they were looking for, they ended up searching for "Unit accommodation in Noosa in July".
Now THAT is a long-tail search. And the sites that came up at the top clearly had EXACTLY what they were looking for.
You need to think about this for your business. It is, let me tell you, VERY important.
The exciting thing about long tail keywords is that while there won't be as many searches compared to the primary keywords such as "unit accommodation", the people who make the long tailed search tend to be further down the track with their research — and they know what they are looking for.
Thus, the conversion rate from these type of enquiries is likely to be much higher.
With this in mind, you need to plan your usage of keywords very carefully, (we'll help you with this if you give us a call), so you can be where the action is and very often sneak under the radar of your competitors who are chasing those 'head' keywords.
A word about "keyword stuffing".
The days when you could simply "stuff" keywords onto the page to get your rankings are long gone. Google will spot that a mile off, and slip you down the rankings.
Good web copy must be balanced, natural and conversational. An example is this page. If you look at it closely, you will see that the keywords 'Brisbane web designer' and 'Brisbane brochure copywriter' are woven through the text.
We haven't gone overboard though.
It is a natural use of these words, as well as their derivative phrases such as 'brochure and website content' and 'brochure design'. It will pass muster with Google, and it is easy and natural for you to read.
Keywords are the backbone of your Internet strategy, and brochure copy isn't written with ANY of this in mind. If you use it on your website, opportunities will be lost on a daily basis due to poor visibility.
3. Reading a website is harder than reading a business brochure.
The other thing is that reading text on-screen is more difficult than on paper. With this in mind, the copywriting on your website needs to be structured carefully so as not to fatigue your reader.
For example, paragraph length must be shorter — restricting them to around four lines if possible.
Where your brochure designer may get away with a substantial paragraph, web designers have to keep it down to smaller chunks. Your web copywriter needs to assist with this, by providing content that is already in bite-sized pieces, making it easier to typeset into the website.
The web designer will also need to think about using colour, design elements and other devices to break up the page, and make it more appealing for people to read.
In summary...
In a competitive market, you can't afford to cut corners with your marketing. Both your brochure and website need to be designed and written properly.
If your budget it limited, you would be better doing things in stages. Get your website right, with strong persuasive content that is written for SEO and for your prospects — and then get cracking with your brochure when your budget allows for it.
That way, BOTH tools will be effective, and you'll see a MUCH better return on your outlay.
Looking for a professional copywriter to sharpen your marketing messages?

We'd love to help you to grow your business, and you can be sure we will take a genuine interest in you, your ideas, your objectives and your challenges. So get in touch with us today by arranging a no-obligation chat about your copywriting and marketing needs.