Steps you can take to convert more leads from your business's website
Your website is an important asset. It has a significant role to play in your business development process, and should be contributing measurably to your weekly sales tally.
Click on the image to enlarge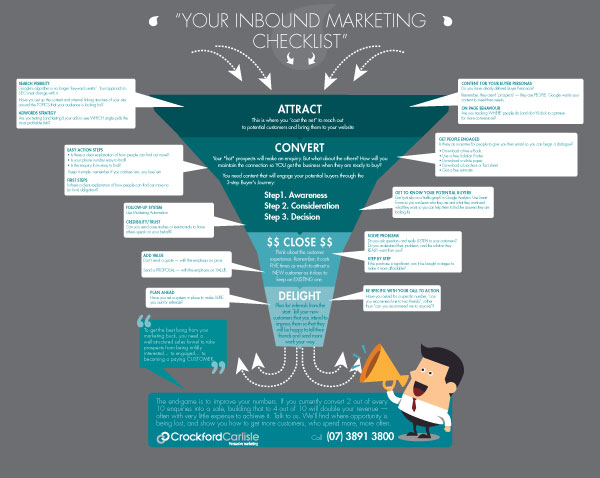 In this infographic, we've focussed on some of the basics of Inbound Marketing… the foundations you need to have in place so you can build on your success with more traffic, more engagement, and more leads.
Inbound Marketing is a step-by-step process
Your Inbound Marketing strategy can be broken into four key stages:
Attract
Convert
Close
Delight
It is important to remember that each one of these stages is an essential link in the chain. You need to make sure that every one of them is working well.
Here are some points to consider, when you look at this infographic, so that you can make sure your Inbound Marketing strategy is as profitable as it can be.
The first stage of Inbound Marketing — Attract
Search visibility
This is where you need to start thinking about the problems that your potential buyers have, and how they're using Google to find answers to them.
As search engines have become more refined, people have learned that they can simply describe their question to Google, and it will find the pages with the answers.
This has changed their search habits.
Now, those 'primary' keywords that used to drive SEO are less and less important.
Your potential buyers are now using "Long Tail" keywords – the longer phrases that describe their problem or question in detail.
Google has improved its algorithm accordingly. It now looks for pages based on the topic or theme of the search.
To capitalise on this, you need to plan your SEO strategy in terms of topics — and structure your website and blog content accordingly.
This now means that your internal linking structure is crucial, and your SEO team need to plan it correctly so Google can figure out:
Which pages on your site
Have answers to
Searchers' questions.
It is essential that you select your "pillar" pages (which focus on the main areas of business that you want to capture), and from there, align your other service/product/blog pages around them in "clusters".
Google Ads strategy
Be sure to test a number of different "angles" in the ads you run, and set them up to display on a rotational basis.
This will enable you to gauge which offer/angle is more appealing for your market, and which clicks produce more conversions.
The second stage of Inbound Marketing — Convert
Easy action steps
If there is a Golden Rule with website User Experience design, it is, "Don't make me think!"
Make sure that it's easy for people to see, at a glance:
What to do, and
Where to go on your website, to
Find what they want.
And remember, just because it is plain and clear to you, doesn't mean that your audience can see it.
To find out what is REALLY going on, use heat mapping software to track what people are doing on your pages to see:
How far they are scrolling
Where they are clicking
What they are missing out on
With this data, you can continually improve your pages so that you engage people more deeply with your website — and move them towards the next step of making a conversion.
Get people engaged
While people who are at the bottom of the funnel may be ready to make an enquiry or to talk to you on the phone, the majority won't be at this stage in the Buyer's Journey just yet.
You need to provide ways for people who are early in their journey to learn more about you and become engaged.
This is where you utilise Premium Content, which is available via a Landing Page and a form, for the 'price' of an email address. This could be things such as:
Download a free eBook
Use a free Solution Finder
Download a White Paper
Download a Brochure or Fact Sheet
Get a ballpark estimate
Once you engage people with a download form on a Landing Page, you can begin the nurturing process and increase your chances of being there as they reach the decision stage.
Which brings us to…
The third stage of Inbound Marketing — Close
This is the stage when you are talking to potential buyers who are at the decision stage of the Buyer's Journey.
They have been looking at your website for some time and perhaps have made repeat visits. You have nurtured the relationship with some Premium Content and emails, and they are now at the bottom of the funnel and ready to take a firmer step towards doing business with you.
This is where your Bottom Of Funnel Offer comes into play.
This might be:
A phone call
An estimate
A visit to their job site
Supply of Case Studies
A consultation
Look for ways to package your Bottom Of Funnel Offer so that the perceived value is high. For example, don't just offer a "Consultation".
Use a Landing Page to explain the VALUE that they will enjoy as a result of having that consultation.
Tell them about the type of questions that will be answered, the way that you will provide assistance, and how you will help them to feel more confident about the next step in the buying process.
The fourth stage of Inbound Marketing — Delight
Remember, it costs FIVE times as much to attract a NEW customer as it does to keep an EXISTING customer.
It is important to ensure that the experience the customer has with you is a good one, and that you are setting everything in place for them to become an advocate of your business, and to refer services to others.
So think about ways that you can add value and deepen your relationship:
Do something 'extra' that is unexpected
Take the time to send them a referral when you can
Find a way to thank them for their continued support
Your relationships with your customers are important — and you need to stay on the case to ensure that they never feel that you are taking them for granted.
Next steps
This infographic highlights some of the basics.
Click on the image to enlarge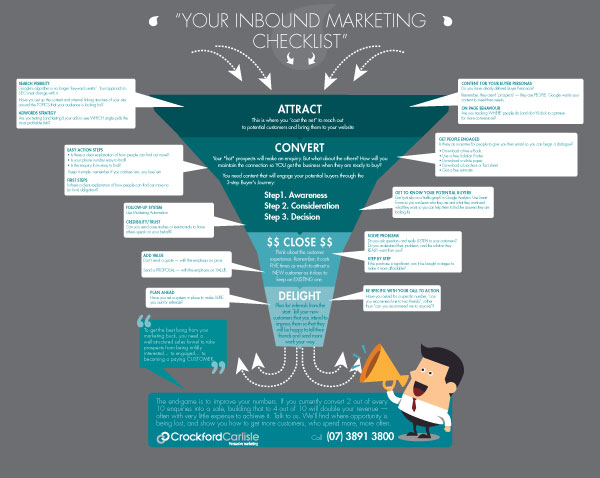 But just putting these initial steps in place can sometimes lift results by 1 or 2% — and if you have a good SEO strategy in place,with a reasonable amount of traffic coming into the top of your funnel, even a small percentage change like this can make a significant difference to the profit that you enjoy.
Once all these are in place, the next step is to optimise your Sales Funnel to ensure that no opportunities are being lost or leaking away.
To learn more about Inbound Marketing and how you can make it profitable for your business, we strongly recommend that you download your free 'Inbound Marketing Explainer' by clicking on the link below.
Get help with your Inbound Marketing
Every day, people are searching for answers — looking for help and the solutions that you can provide.
If you can catch the attention of more of them, better engage them on your site, and convert them into Sales Qualified Leads, then your sales team will be busier and the world will be a happier place.
Our team live and breathe Inbound Marketing.
Our copywriting, design and coding team works closely with our digital analyst to make websites really sing. We'd love to have a chat to you about how we can help you grow your business too.
Our number is (07) 3891 3800.
When you call, you won't hear an 'agency sales pitch'. You'll talk to a senior, experienced marketer who will take the time to discuss your challenges and opportunities, and give you insights into the steps that you can take to reach more people and produce more sales qualified leads.