As a business owner, you are investing in your sales team every hour of every day. And if they're converting leads into paying customers, that's money well spent.
But the two big questions are:
1. How much of their time is spent doing efficient, profitable work?
2. How much of their time is being wasted pursuing the wrong type of lead?
As we said in our article about how to clearly define your sales qualified leads, research by 101-B2B Marketing shows that as much as 50% of the average salesperson's time is wasted on unproductive prospecting.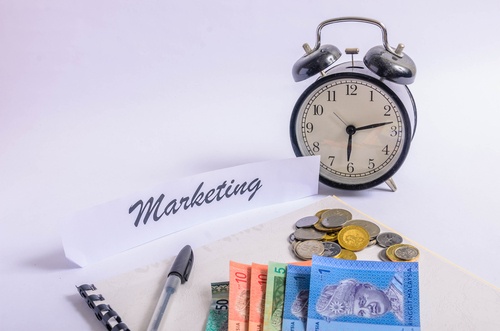 50%.
That's a big chunk.
50% is a lot of lost opportunity for your business.
Marketing Automation goes a long way to getting this sorted.
It makes your Inbound Marketing campaign really sing, and it lets your sales team focus on the Sales Qualified Leads they are looking for, so they don't have to waste time trying to find them.
In this article, I'm going to give you an understanding of how, as a digital marketing agency, Crockford Carlisle implement Marketing Automation systems for our clients, to make their sales teams more productive, and their businesses more profitable.
Without Marketing Automation, your sales team loses time here… here… and here…
Ideally, your sales team would spend each day talking to potential buyers who tick the "B.A.N.T." boxes.
They're the ready-to-go potential buyers who:
Have the Budget to pay for your products and services
Have the Authority to make the decision
Have a Need (or a problem) that you can solve for them
Want to act in a Timely manner, rather than putting it off
But in the real world, that isn't how things are.
True, SOME of the people who connect with your business are at the 'Decision' stage of the Buyer's Journey.
They are already a Sales Qualified Lead.
But most aren't.
So, your hapless sales team has to FIND those leads. And that means spending time:
Identifying prospects who fit your 'Ideal Buyer" profile
Initiating contact with these potential buyers
Investigating the challenges that they have, to see how you could help
Nurturing the relationship
Building trust
Showing the value that you offer
Finding out if your sales guys are dealing with the actual decision-maker — and if not, working through the entire process a-g-a-i-n (So much fun!!)
Nurturing the relationship some more
And THEN, after all that, f-i-n-a-l-l-y moving on to the initial stages of the sales process.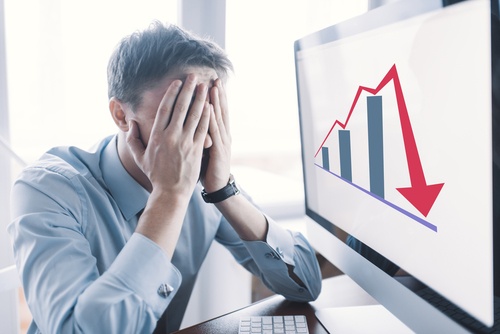 Little wonder that 50% of their time — each day — goes down — the gurgler.
Understanding how your customers buy your stuff
One of the keys to understanding the potential for Marketing Automation in your business is to look at the way your customers tick.
To do that, think about the last time you yourself made a purchase.
I don't mean a 'transactional' purchase where you just needed a computer cable… or a piece of fruit… or a pair of socks… and went and bought it.
I'm talking here about a more substantive purchase – such as a car, a television, a new kitchen, or perhaps a new sound system for your home.
Or an asset for your business such as a new workshop, a new server & backup system, or some stand-up desks.
You didn't just march into the first shop (or first website) you found and fling money at them.
You went through a process.
It was a stage-by-stage process that we call the Buyer's Journey.

And here's the thing…
In the early stages, when you were just looking, researching, poking, prodding, learning and figuring things out, it would likely have been a waste of time for a sales person to be talking to you.
Whoa!
Reading this, you might arc-up and say "Hang on a minute Jerry. There have been times when I have sent information… followed up… stayed in touch… been super helpful… and ended up making the sale."
Yep.
That's true.
You SHOULD follow up. And stay in touch. And be super helpful.
HOWEVER…
You really only want your sales team doing this with people who have the BANT boxes ticked — or who are close to it.
These people are your Sales Qualified Leads.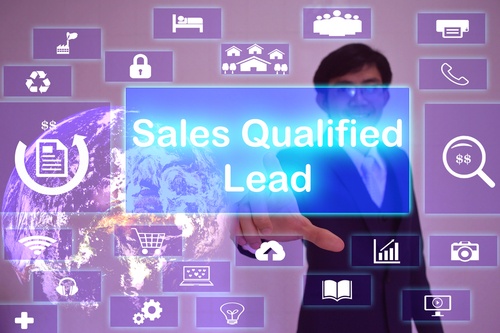 Otherwise, if you seriously keep score and run a clock on it, my bet is that most times you were just being the ever-hopeful sales person (sales people live on hope. You have to, to survive, right?) who only sees the once-in-a-while positive outcome of a closed sale.
And in all the Excitement Of That One Sale you forget about the lost hours… all that time wasted on all of those people who were way back in the Buyer's Journey, and were still a long way from the decision stage.
And before you know it, 50% of your Productive Time Is Gone. Forever.
Marketing Automation changes the game. It enables you to SELL to potential customers who are ready to BUY.
What does Marketing Automation do?
Marketing Automation uses your website to progress your potential buyers through those early stages of the Buyer's Journey, without your sales people getting involved or lifting a finger.

It keeps your sales pipeline full.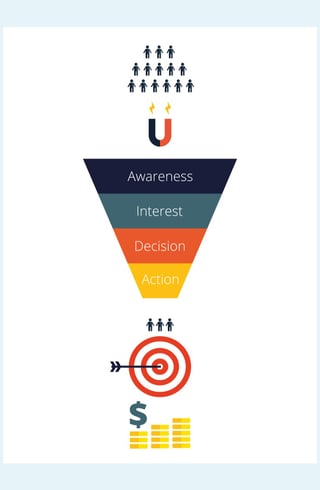 It means that your troops are not wasting their time making cold calls. Instead, they can focus on the 'business end' of the buying process.
A Marketing Automation system incorporates a number of components, such as:
Website content that is targeted to different stages of the Buyer's Journey
Calls To Action to direct people to Landing Pages
Landing Pages that act as conversion points
Gated, downloadable content that has a high perceived value
Smart forms, that enable you to build a profile of each potential customer
Lead scoring, so you know who is a lead, who isn't, and who is ready to hear from you.
Done well, Marketing Automation means your business can begin to build a relationship with your potential customers by:
Giving them the information they want,
When they want it,
In a way that suits them.
It is a force-multiplier for Inbound Marketing, and pulls everything together so you can see what's going on, what's working and why.
If you are half-serious about learning about this, you really should call Crockford Carlisle and get a marketing automation demo, as it's difficult to explain the full power of this thinking in one article.
When you see for yourself how people come to our clients' websites, see which pages they looked at, see the way we can track the forms they fill out, and see the content they engage with, you'll agree it's really quite remarkable.
It is jaw dropping even.
And what is really cool is the fact that all of this happens… Without A Salesperson Being Involved Or Lifting A Finger.
No, Marketing Automation doesn't mean weird robots with red-flashing eyes trying to talk to your customers
One last thing to understand. Don't think, for one minute, that automation means a bunch of robots doing stuff and trying to talk to your customers.
In my case, (probably as a result of being a Dr Who fan as a kid), the word 'automation' threw me at first.
I couldn't see how a-u-t-o-m-a-t-e-d content could resonate with regular, mirror-fogging people. Duh!
I'll be happy to share my story with you when we talk about it. But let me tell you, my first conversation with the team at HubSpot was very enlightening.
As I was shown my own personal history of engagement with HubSpot – over nearly a two-year period PRIOR to my picking up the phone – I could see how my relationship with them had been nurtured.
Before I spoke to them:
I already understood their brand
I already understood their value, and
I already understood the problems they could help us solve for our clients.
And I say again… this was all done without a HubSpot salesperson lifting a finger. And I had no IDEA that it was all done automatically!
Talk to a Marketing Automation evangelist — and understand what it can do for your growth plans
I find myself talking about HubSpot and Marketing Automation a lot.
But it is for good reason.
At the time of writing, our agency has been operating for 23 years, and I have to tell you that I have never been more energised about the work we are doing and the results our clients are enjoying.
I'd love to talk to you about it, and share a little of our experience.
Call me, Jerry Crockford, on (07) 3891 3800.
You won't get an "agency sales-pitch".
But you will get your ear chewed off with genuine enthusiasm and insights that you'll find helpful as you look for ways to reduce your cost-per-sale and grow your business.
And yes, although we are a Brisbane based digital marketing agency, we help clients Australia-wide to enjoy a higher marketing ROI. We can help you wherever you are.