When planning your new website build, you could just hand the project over to a web developer or a marketing agency.
HOWEVER, that may mean that opportunities can so easily be lost.
In this quick, 60 second video, we'll look at why you'll get so much more bang for your buck by including your sales team in the process as well.
After all, THEY are the ones who need the qualified leads that your new website is meant to produce — so they will have insights that your website design agency needs to consider and build right into the site.
[Video] Web Development: Why you should involve marketing AND sales from Crockford Carlisle on Vimeo.
[Video Transcript]
G'day, it's Jerry and Terry with a quick 'Heads Up'.
Today we are going to be talking about who should be involved when you build your shiny new website.
You'd think its marketing project, so you get marketing people… a web developer.
Well, that's true.
However, I'm encouraging you to also involve your sales team as well.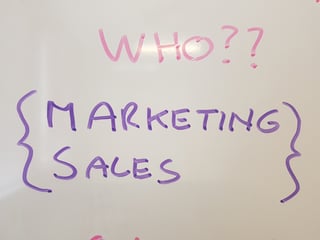 Reason is: what do you want the website to do? You want it to generate qualified leads so that your sales people can sell stuff.
The challenges for most sales people, is that nearly 50 percent of their time is wasted.

Now you could beat them up and say it's their fault. It's actually not their fault.
The problem is they are not given the qualified leads they need to work with.
So if that's what you want to generate, it makes sense to call in the sales people at the early stages to talk about it, because they know your customers.
They understand what they need at the awareness stage, with regard to questions and problems that they have.
They understand your customers at the consideration stage
And they understand your customers at the decision stage, and what's needed to get the sale over the line.
So here's the thing for the day – next time you're upgrading or building your website, make sure you get your marketing AND your sales people involved together so you get a far better outcome.
I know you're out of time now. But please feel free to give me a call anytime and have a chat about your site and improving the number of qualified leads you produce each week.
Want to make sure your new website generates qualified leads?
As a digital agency, we build money-making websites for businesses all over Australia.
Sure, the design is great, the copywriting is appealing and the coding is lean, mean and fast loading.
But the real value we bring?
It is helping you to set up your digital sales funnel so you capture leads from the right kind of potential buyers — and nurture them till they are a Sales Qualified Lead for your sales team to work with.
Call us now on (07) 3891 3800
It costs nothing to have a chat. You'll get a feel right away for the way we approach things, and whether you think we are the digital agency you need to help you to reach your growth objectives.