A 12 month case study
If you're considering Inbound Marketing for your business, you might be wondering how long it will take you to see a profit.
You are not alone. We're often asked the question, "How long will it take till we see an ROI from Inbound Marketing?".
In this article, I'm going to take you 'behind the scenes' to look at a real-world experiment the Crockford Carlisle team ran on a website. We'll see what a difference Inbound Marketing (coupled with Marketing Automation) made for our client over a 12 month period.
It's a detailed, thorough article, with plenty of insights. So grab a cup of tea and a Tim Tam now, and settle in so you can absorb and get plenty of value from it.
Setting the scene: about the test business and how it ticked the Inbound Marketing boxes
We wanted to know what would happen if a business:
Operating in a very competitive environment
Ignored their marketing for years, (other than sporadic on/off efforts)
Started an Inbound Marketing campaign using HubSpot's Inbound methodology
And worked on it consistently for 12 months.
It wasn't hard to find a business that fit the first two parts of the criteria.
I just looked in the mirror.
As Crockford Carlisle thunders towards our 25th year we face a lot of competition. There are many marketing agencies in Australia with varying levels of expertise and service. So yes, we are in a very competitive environment.
That ticks box #1
And over those years, we'd been so busy doing it, doing it, doing it, (helping clients to make more money from their marketing), that we had neglected our own backyard.
"You must blog regularly!" we cried — and didn't do it ourselves.
"You have to clearly define your Buyer Personas" we urged — and hadn't done it ourselves.
"You must have a strategy to convert people" we chided — and hadn't done this on our own site.
"You need to nurture potential buyers to the point where they are qualified leads." we encouraged — and did little of this for ourselves.
Now, don't get me wrong.
We did SOME of these things, SOME of the time.
There had been blogs written and eDMs sent. And we 'sort of had an idea' about our target Buyer Personas. We even came close to setting up some campaigns. There was that time back in '98 when we…
But was it consistent?
...not so much.
In our defence, by the way, this is a common theme among humans, so don't be too judgy.
There's the plumber who never has time to fix his own pipes. The mechanic whose car is always coughing up blood. The teacher who has the worst behaved kid. And of course… the cobbler whose children have no shoes.
The difficult part is fessing-up and telling you about it in this article. A public confession isn't easy!
No one likes to admit that they have been slack. And no doubt one or two of our competitors will seize on this poor track-record as an excuse to point and stare. But we figured that there is a good story in this, and it is good for you to hear it.
That ticks box #2
Now, what about the next two criteria on our list?
Started an Inbound campaign, and
Worked it consistently for 12 months.
Well, for us this began in April 2017.
We were about 12 months into our journey as a HubSpot agency, and already starting to see some spectacular results for our clients. Our knowledge about Inbound Marketing was increasing, and our clients relied on us to do more and more.
We needed to grow our team to widen our expertise to deliver higher and higher standards of performance – which meant we needed more revenue to support that team.
So the time had come to get on with it — and so we set a target of 30% growth over two years.
We planned our strategy and got cracking. And… we gritted our teeth, girded our loins, buckled up our buckles and decided that We Would Be Disciplined and apply Inbound methodology in our own back yard.
Boxes 3 & 4 were ticked
And so, the scene was set.
How we set priorities for our Inbound Marketing campaign
Because every business is different, every campaign has different starting points and priorities.
For example, if you came to us and we found you had reasonable website traffic, then we'd begin by increasing the efficiency of your sales funnel — finding ways to get more of your existing traffic to convert.
In our case (prior to the start of the 12 month case-study period), our traffic was, well, awful — so building that was our first priority.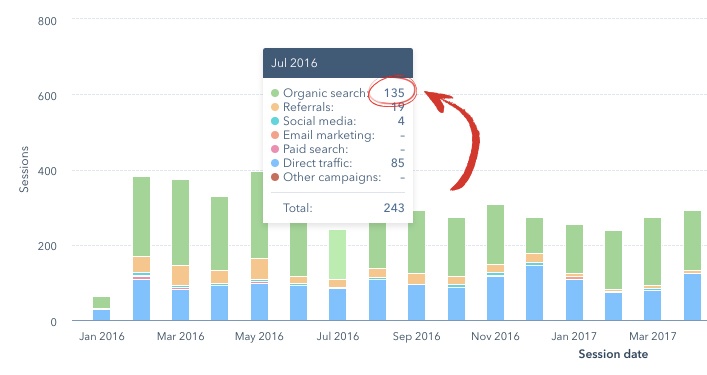 I've highlighted July 2016 in that screenshot. Seeing 135 organic visits for the month was sobering.
As you can imagine, for us to see these figures (after being immersed in data of clients' sites with organic traffic in the thousands per month), there was a thoughtful silence in the room.
Little wonder none of us had wanted to look at our own data. It hurt our eyes.
And the more we looked, the worse it was.
As this data from our blog shows, the top two blogs drawing traffic in July 2016 were about services that we no longer offered. That first one had been published 15 years ago, when we got out of bed every day to craft persuasive brochures.
Now, in 2018 as a digital marketing agency, brochure design was no longer our core business. And yet that article was still hard at work — bringing in traffic we didn't particularly want.
Aaaaagh!
You can see why this type of data analysis is important.
It is one thing to 'have some traffic'. But you need to know what KIND of traffic you are working with.
We always dig in like this with our clients' websites. It helps us to understand the real value of the existing traffic, and identify opportunities.
For example, if we found some blog posts on your site which were drawing traffic AND had content that was relevant to your current service/product offering, then these would get immediate attention. We'd look to see how we could convert some of that traffic into subscribers or leads.
But our traffic wasn't like this. Our traffic was rubbish. So yes, generating traffic from the RIGHT kind of potential buyer was our highest priority.
Before getting started with blogging, think: who are we blogging FOR?
Before getting started, we had to refine our Buyer Personas to make sure we were producing the right content for the right people.

There are a number of possibilities for us (such as marketing managers, sales managers etc), but we figured that we should focus on "Barry Business Owner" as our first cab off the rank.

The reason?

Our long-lasting (and most enjoyable) relationships with clients were when we dealt directly with the owner of the business.

They are switched on. They recognise the importance of marketing. They value our high standards, and they know that we need to pay talented people to do good work. And importantly, they respect our input and want to work with us as partners in their success.

All of that meant that Barry was our man!

NOTE: On this subject, you need to think about this with your own Inbound Marketing strategy. Don't make the common mistake of just "blogging about what you do". Instead, develop your Buyer Personas, and produce content that is for THEM — answering their questions as they consider their options for moving forward.

To get help with this, click the banner below and get your free copy of our eBook, Turning Prospects Into People. It is a step-by-step guide that helps you to define your selected Buyer Personas so you can laser-focus your content, and get the right people engaged in your Inbound Marketing funnel.
So, with our primary Buyer Persona (Barry Business Owner) defined, we could now start creating content that would get Barry's attention.
We started to create helpful, meaty blog articles about topics such as:
5 easy ways to generate more leads from your website
How to get long-term lead generation from your landing pages
7 ways to create 'must-read' B2B marketing content for your website
Finding the best keywords for your business
How many questions can you ask on a website form?
And many (many!) more.
Each of these offered insights, solutions and information that Barry Business Owner would find helpful.
The journey of content creation had begun!
Promote, promote, promote!
Rather than just relying on Google search, we look for ways to promote our clients' content through other channels. This helps us reach new audiences and gain more leverage from each piece of content.
So, we did the same for us.
Fortnightly eDM
The first step was a fortnightly eDM, sent out to our existing database.
This was an interesting exercise. That list of 736 was literally 20 years old. We expected it to contain a lot of deadwood – which is why we were actually surprised that there was such a high open rate.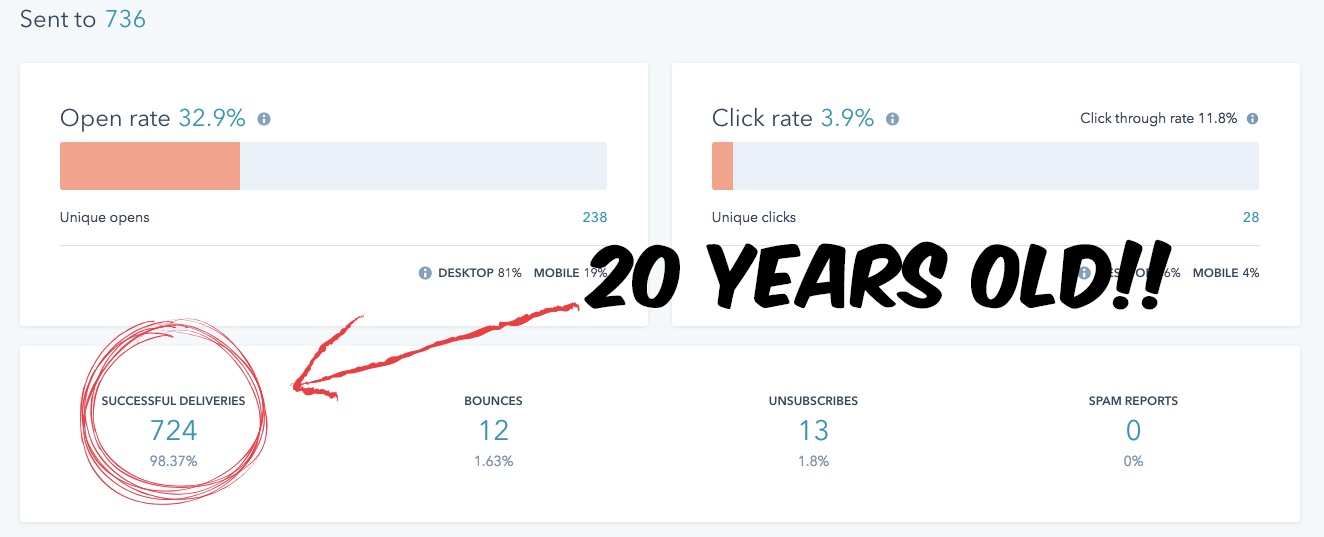 But the reality was (and we had some phone calls that backed this up), many of the recipients had sold their business, retired or moved on. But because we had long-standing relationships, they had opened up the email out of curiosity, to "see what you were up to these days Jerry" — not because the message was of any real interest to them.
As expected, as we rolled out the fortnightly emails, the open rate started to decline, and the unsubscribes started to rise.
After 12 months, the list has shrunk to 387 (down from 736), but we now have a much higher QUALITY list. These are the people we need to be talking to.
These people are "Barry Business Owner", and they are actively engaged with our content — clicking through from the eDMs to our website and getting involved with the content and download offers.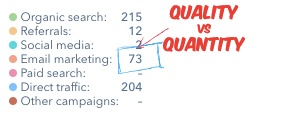 Again, let's think about how this applies to your business. It's important to get your email list cleaned up — and from there, try and segment it as much as you can.
A tip on how to segment your EXISTING lists
As a reader of our blog, you'll know why thinking in terms of "Doing an e-Blast" will rob you of significant opportunity, now and into the future.
If you are not across this, you'll get a heads-up from our article "Have you been sending out Email Blasts and getting dwindling results?"
The question is though, "How do you segment an already-existing list?"
To do the job, we used HubSpot's 'progressive profiling' to ask further questions as people from our list re-engaged with our content.
For example (in four steps):
We emailed them offering them a high quality e-Book…
When they clicked through to download it from the Landing Page…
We would ask them their role and what was their biggest challenge…
And their reply would enable us to segment them for future contact.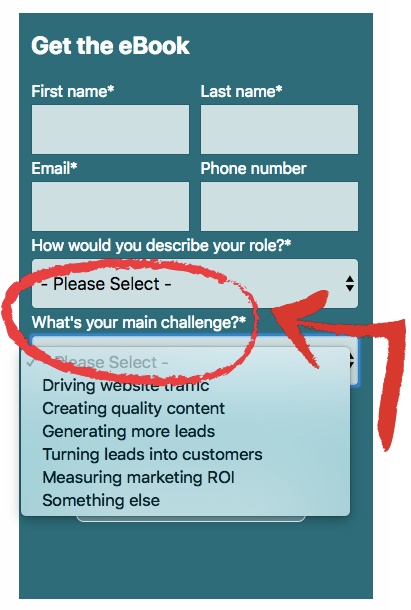 With this detail we can ensure that future material we offer those people is relevant to their needs. For example, if they indicated that creating quality content was their biggest challenge, we could send them ideas on how to solve that particular problem.
Happy days!
And social too
As well as our fortnightly eDMs, we also started promoting our content on Facebook and Linkedin — with posts and articles that highlighted the key points of our blog content and encouraged people to click through to our site to engage with it.
Conversions from Inbound Marketing
As traffic started to climb, the next thing we focussed on was the efficiency of our Inbound Marketing funnel.
We needed to:
Improve the ratio of visitors to enquiries, and
Improve the quality of those enquiries.
As this data shows, at the start of our experiment, the number of new contacts each month was very low. (OK. So it was a big, fat zero.)
Again, given that we were serving up the wrong content to the wrong people (and had no strategy to optimise it) this wasn't all that surprising.

Now that we had created the right "free" content, (blog articles and solid, informative service pages), we needed to put together a range of "Premium Content" pieces.
These are high-value resources, rich with information and ideas that people could download — in exchange for some information about themselves and their needs as a potential client.
These Premium Content pieces included our:
Turning Prospects Into People eBook
8 Point guide to mobile friendly websites
Essential Guide to Inbound Marketing
How does Inbound Marketing work? explainer
Getting these together was a big job. Each of these needed to be:
Then set up with
Landing pages,
Smart forms,
Thank You pages,
CTAs and
Nurturing emails to promote them to the people on our growing lists.
Busy times!
Creating these assets to a high standard is an essential part of a well-run Inbound Marketing campaign. We do it for our clients, and it all had to be done for our own campaign.
And remember:
These assets are the foundation of your conversions strategy, and each has a role to play. But each one is only one LINK IN THE CHAIN.
If you have a weak link, then none of it will work well for you.
For example…
You can have the best eBook in the world, but if your landing page doesn't tell the value-story and convert, your Inbound campaign will founder.
To learn more about this, read our article about creating landing pages called 10 tips for getting more website conversions.
Inbound Marketing after 12 months — so how did it go?
As the graph below shows, considering the AMAZINGLY competitive market we are in, the results are excellent.

You can see the kick off in April 2017, and the first growth in May. The addition of traffic in the orange band is from our fortnightly eDMs.
There was the expected Christmas downturn in December, after which things have picked up nicely as we march into the year.
And as this data shows…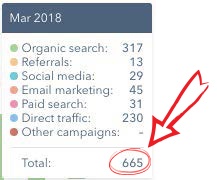 … Organic and Direct account for a healthy chunk of our traffic, with only 31 visits from paid.
How does AdWords work with Inbound Marketing?
If you are considering spending on AdWords, please talk to us about your strategy BEFORE you open up your wallet to Google.
Don't get me wrong, we are big believers and have a great deal of PPC expertise on our team. We use it a lot as a very profitable strategy for many of our clients.
The trick is to make sure that your money is spent wisely though.
In our sector, (digital marketing agencies) the cost-per-click is just stupid-ridiculous for 'bottom of funnel' keywords such as:
"Inbound Marketing" at $13.40 per click
"Marketing Automation" at $45.46 per click (!!!)
We'd rather not play in that pen — figuring we'd be better off pulling our finger out and using our Inbound expertise to run our own Inbound campaign — rather than making Mr Google fatter and richer.
Gabriela, (our AdWords manager) has played a much smarter hand, finding keywords that have slightly fewer searches, but which are way (way!) less competitive. This gives a much higher ROI for our outlay, and enables us to convert more desirable prospects.
As I said, there is a lot to this, and misery can quickly set in if you don't tread carefully. My advice is to call us before you go in too deep with PPC!
And what about the pesky 15 year-old blog?
That blog article about brochure design is still clinging on — and still drawing some traffic. (We could remove it and put in a redirect, but self-torture is much more fun!)
But here's the thing…
If you look at the conversions (CTA Clicks) being produced, you can see that the posts that are targeting our market are pulling great numbers — while that old 'brochure design' blog is slipping back to a low 2.13%.

This tells us that our overall SEO strategy is working, and the site is now getting the attention of the right people.
In time, that poor, hard-working post will be a dim memory, along with stone tablets and chisels.
Way to go team!
And the big question — has Inbound Marketing produced more Sales Qualified Leads?
Yep.
As this data shows, we now see a healthy inflow of new contacts into our CRM.
Our Buyer Persona (Barry Business Owner) is finding us, liking what we have to say, and feeling confident enough to engage with us.
With Marketing Automation, we're solidifying this relationship, and as a result we are well on track to our goal of 30% growth over 2 years.
Is this a fast growth?
Hard to say, as every business is different.
We have another client (in the retirement village game) who has seen increases in leads in order of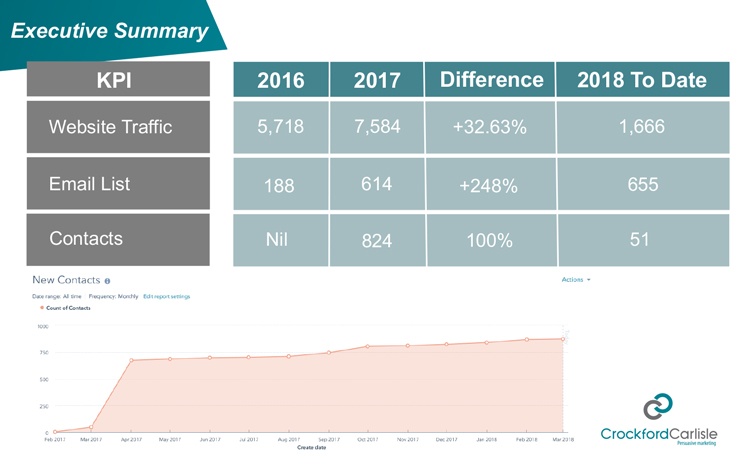 in 12 months, with a terrific ROI.
We have a dentist client who has been so delighted that they paid us 12 months in advance — unasked-for.
But for us, given the poor starting point and hot competition, we are happy and delighted with our growth.
And in 12 months' time…
Opening up to you like this wasn't an easy decision.
But as you've seen, there's a great story in our experience that we reckon is worthwhile sharing. And as our teeth remain gritted, our loins girded and our buckles buckled, we will continue to be disciplined over the next 12 months to build on the story so far.
And besides, our own 12 month Inbound story is really only a sideshow.
The real reason we exist is to help our clients to prosper — and we are killing that with some fantastic, well-above-industry-average results.
Thanks for sharing this with us.
We look forward to sharing our continuing Inbound Marketing story with you, to see what things look like two years in!
Not sure whether Inbound Marketing is a good fit for your business?
If you'd like to talk about your growth objectives, and whether Inbound Marketing is the way to get there, please call and we can talk it over.
We won't 'talk you into it'. There's no value in that.
We have long, enjoyable working relationships with our clients, and that means starting things off on a good footing — with straight talk and clear thinking.
We'll look at your numbers, your site, your competitors, what you are currently doing and where you see the problems and challenges are.
If it looks like there is a business case with a good ROI, we can give you some first steps to consider.
You can call now on (07) 3891 3800. Or if you prefer, just pick a day/time to book 15 minutes for a heads-up phone call. (Scroll up and you'll see a calendar at the right of the page for you to do this.)
We work with business owners from around Australia who are serious about growth, but are often frustrated that they've spent time, money, and effort on their website, yet it still doesn't produce the traffic and leads they had hoped for.
We'd love to work with you too!