Why every page on your website is a potential landing page
The days of all your website traffic landing on your home page are long gone.
Here's why:
Google has taught your potential buyers to use long, descriptive search terms to find EXACTLY what they want

In return, Google wants to give them answers that are relevant/helpful

The most relevant/helpful info MAY be in your home page

But it is more likely to be on an internal product/services page or on your blog

And so Google will direct them right to that page on your website, NOT to your home page

All this shows why it's so important to know which pages are drawing traffic to your site.
This allows you to then structure your Inbound Marketing strategy to make the most of the opportunities that this presents.
(You'll find a helpful article here about setting up an Inbound sales funnel)
Here's how you can use Google Analytics to see where people are landing on your site
First up, make sure you have a decent size date range, so you have sufficient data to see what's going on.
How big a range you use depends on your traffic volume, but a good start is to use a 12-month period, as shown here: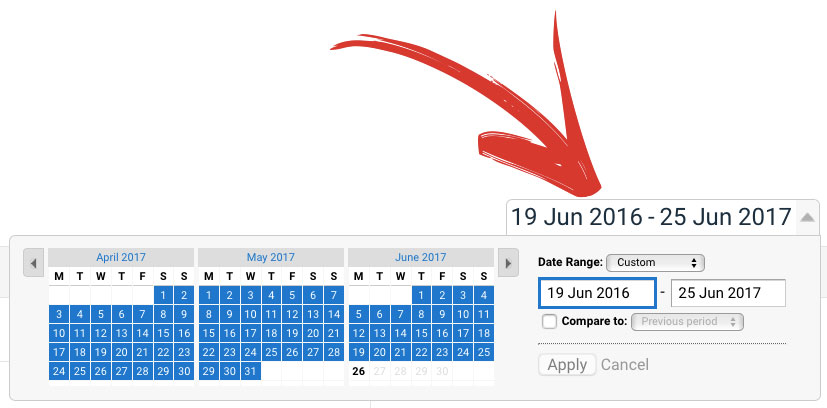 Next, go to the 'search' box at the top left hand corner of your Google Analytics page, and type in "Landing".
In the drop-down of options, you want to go to the "Acquisition" section, as it shows you which pages people landed on when you acquired them as visitors.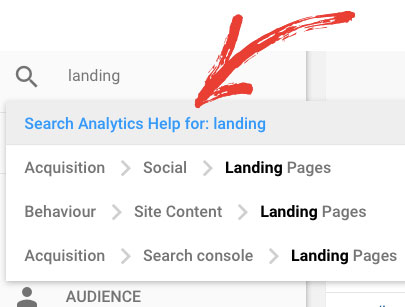 Depending on the quality and volume of blog posts on your site, you might see right away that your home page (often shown as a '/') isn't necessarily at the top of the list.
And that isn't a bad thing.
It shows you that the SEO of your site is in good shape, and that, if your internal pages or blog pages have the good quality information that people are looking for, Google is happy to push your site's pages up the search results.
You know where people are landing on your site. Now, what do you do with them?
You are not going to convert every visitor into a customer. Life would be great if you could, but that isn't going to happen.
What you CAN do however, is set up your Inbound Marketing funnel to convert as many as possible into Sales Qualified Leads.
To do this, you need to make sure you give them what they want. And that means thinking about the INTENT of the people landing on your pages.
The better the 'next step' of your sales funnel aligns with what they want to achieve, the more people will engage with you, and the happier everyone will be.A good starting point is to think about where the content of each page on your website fits in with the Buyer's Journey.
Here's a quick overview of how things work:
Inbound marketing strategy and your blog pages
Generally, the content of your blog is more likely to be at the top of the inbound marketing funnel.
This is where you will be speaking to people at the "Awareness" and "Consideration" stages of the Buyer's Journey.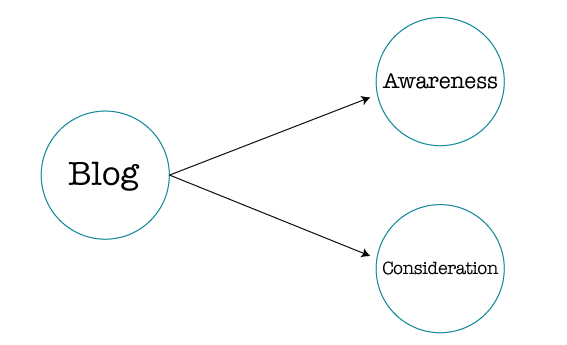 These people are not ready to buy, so don't try and sell to them. They will run away screaming – or worse, simply tune out.
Think about it… when you are in a shop just looking at a new dining setting, you don't want to be pressured to buy it. You just want to look at your options at this early stage.
You will buy when you are READY to do so.
It's the same for the people on your blog.
They are still researching… learning… asking questions… understanding… and sorting out which way they would like to go to get their problem solved.
They landed on your blog pages because the search terms they used are very broad questions. Google served up your blog page because that is where they are likely to find the answers — so give them what they want!
What's the intent of people landing on your blog?
These people are not ready to commit, or even to make an enquiry.
HOWEVER, they are likely to consume content that will help them in their quest to get their problem solved.
To align with this intent, you could offer them the opportunity to:
Click through to additional blog posts to learn more
Click through to specific service pages

Download an eBook

Download a 'How To' guide

Watch a video

Download an Explainer

Sign up for e-newsletters

Sign up for notifications about new products/solutions
About your product/service pages
The content of your product/service pages will be towards the bottom of the funnel.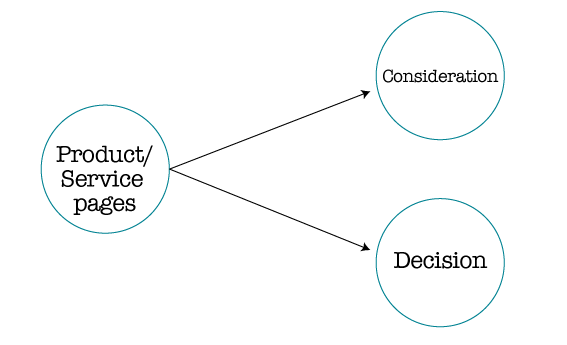 This is where you provide information for people who already know the type of product and service they are looking for. Now, they need to decide who they are going to buy it from. What's the intent of people landing on your product pages?
These people are more likely to be ready to take a 'high bar' offer such as:
Request a phone call

Get a quote

Arrange a consultation

Arrange an onsite visit

Book a meeting

See a demonstration

Talk to a consultant

Submit their plans for pricing of their project

Learn about your pricing structure
Creating lists is essential for Inbound Marketing success
As your Inbound campaign takes shape, people who download resources such as eBooks and Explainers will go onto lists — based on the information they give you when they complete a form on your landing page.
(You'll learn more about how people fill out website forms here)
To really make your campaign sing, you want to segment your lists as much as possible, so you can send out emails that are absolutely relevant to the people on each list.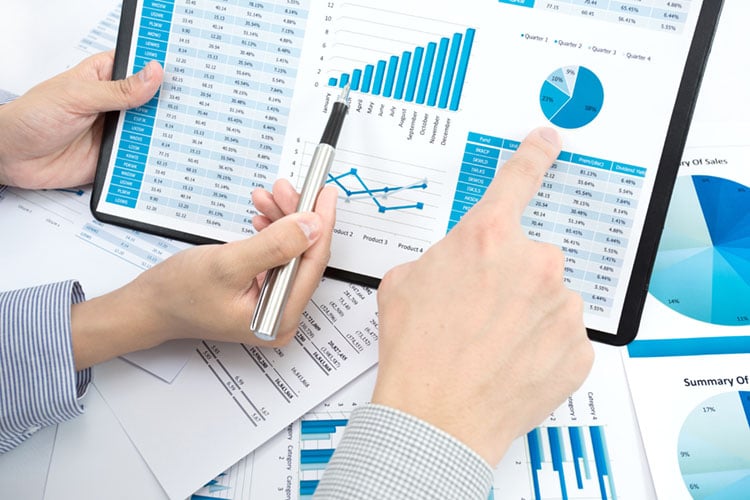 For example, if you are a university or college, you might create segments for:
People who want a qualification to get into the workforce

People who want a qualification to upgrade their career

People who want a qualification to change their career
Each of those groups will have different questions and motivations. Thanks to segmentation, you can ensure that the follow-up material you send them is relevant and helpful — building your brand and winning their trust along the way.
Alternatively, you might want to know the role of the person visiting your website, as this will influence the type of follow-up material that they receive. For example:
Sales Manager

CEO

General Manager

Workshop Supervisor

Operations Manager
By allocating visitors into these segmented lists, you can offer them additional information that will be relevant and helpful to them, thus increasing the likelihood of further engagement.
Use Marketing Automation to nurture your lists
You as you develop your lists, you'll need to nurture your relationship with these people — otherwise, they will likely float way into the warm, welcoming arms of your competitors.Obviously, you don't want your sales team caught up in doing this.
Although many of the people on these lists are potential buyers, they are still early in the buying process, and are not yet ready for serious personal attention. This is where Marketing Automation really shines.
(You can learn more about our expertise in Marketing Automation here)
When it is set up correctly, the people who go onto your lists automatically receive well-crafted emails over an extended period, offering them further resources or simply ensuring you stay top-of-mind with them as they navigate their Buyer's Journey.
This lets you gain a significant advantage over your competitors, who may not be using such a sophisticated, well-structured approach.
Additionally, with Marketing Automation you can set up a system of "lead scoring".
That way, only once a lead has ticked a number of boxes and been deemed a Sales Qualified Lead, will your sales team be automatically notified so the lead can be followed up on a personal basis.
Marketing Automation gives you tremendous leverage. It means that:
Leads will be followed up

Opportunities won't be lost

You can cater to a much wider market, and

Grow your business more quickly.
Get fresh insights about how you can profit from Inbound Marketing
If you are wondering how you can implement a profitable Inbound Marketing strategy, please give Crockford Carlisle Brisbane a call on (07) 3891 3800.
You won't get an agency 'sales pitch'. You'll talk to someone who loves Inbound, is happy to answer questions, and will help you to understand how it can work to make your sales team more productive.
We have resources and information we can send you, and will point you in the right direction so you can move forward with confidence. All with a smile and with no obligation. How good is that?!